In an effort to help our youth be healthy, the Cherokee Area Council developed a program to help youth make bette choices for healthy living. Our ScoutFiT program will seek to improve the areas of wellness and fitness (eating, water consumption, physical activity and lifestyles) in your life.
Welcome to the ScoutFiT program!
As a youth serving organization, we are concerned with the growing percentage of youth that are deemed overweight or obese. This is a growing trend that appears to be getting worse. Physical activity continues to decrease due to sedentary lifestyle (television, computers, video games), decreases in physical education classes in schools and cultural shifts. The family dinner and other healthy eating habits are being pushed aside to satisfy the fast food lifestyles of many busy youth and their families.
Tennessee has the 4th highest percentage of overweight youth - Trust for America's Health, 2008 report
Scouts will receive a ScoutFit patch and certificate after completing the program.
| | |
| --- | --- |
| | ScoutFiT and Boy Scouts of America have been recognized as a President's Challenge Advocate by the President's Council on Physical Fitness and Sports. |
A pilot ScoutFiT program funded by the United Way of Bradley County Hospital Fund began in August 2009 with Cub Scouts, Boy Scouts and Venturers in Bradley County, TN.
For more information, contact Kevin Beirne at 423-892-8323, ext. 111.
ScoutFIT Program Booklet ScoutFiT Program Cover ScoutFiT Assessment Chart and Award Application Form
Constructing a Sit & Reach Box
Recognition for Scouts: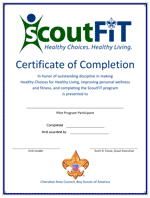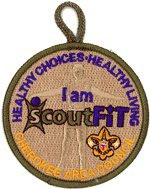 Below is a list of websites that may be beneficial to you while participating and after completing this program. Take advantage of these great websites to help you make healthy choices for healthy living.
MyPyramid.gov
Inside the Pyramid learn about each food group and find lots of tips for healthy eating. Customize a food pyramid for yourself.
PresidentsChallenge.org or Fitness.gov
Learn about the President's Fitness Challenge and how to participate. The site includes award information, activity logs, and applications. You may apply for a President's Physical Fitness Award by completing the order form. The certificate, patch and other items available for this award must be ordered and paid for separately by the qualifying individual or the Scout group.
GetFitTN.com
BMI calculator, meal and fitness tracking, daily reminders, competitions and other resources.
cdc.gov/healthyliving
Tons of information and research articles pertaining to making healthy choices for wellness and fitness.
bmi-calculator.net
BMI and Waist-to-Hip ratio calculators
myfamilyhealth.com
Connect with your relatives to record and track an accurate and up-to-date family health history while finding out which health conditions run in your family.
Hamilton County Health Department Community Health Calendar
This calendar focuses on events related to preventive health care.
bam.gov
This website provides information about fitness, food and nutrition, exercise, disease, and safety. Take a quiz, play a game, or create a fitness calendar.
exrx.net
Fitness testing norms according to age for various exercises. BMI and WTH ratio calculators also available.